View All News
Edmonton 311 - potholes, burned out street lights, sewer covers, bylaw enforcement (city bylaws, not Wedgewood restrictive covenant violations), and pathway repairs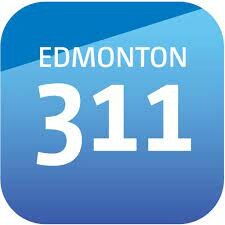 For Any neighborhood concerns or citywide concerns, 311 is the first place of contact for repairs and inquiries.  311 has a very user friendly app, and it allows you to upload pictures of the damages, or repairs needed.  
As The Homeowners board, we receive many calls about city owned property and assets, lights, roads, potholes, grass, sewers, paths, snow removal, garbage, bylaws.  We as the board refer people to call 311 or use the self help app on your phone. 
This is where you would report burned out lights, as the city does not actively drive neighborhoods any longer looking for burned out lights to repair, if you as a citizen don't report it, it will never be fixed, simple as that, and you could likely assume most other repairs would be similar, although we have not verified this.   
With the App, you can report the location by going on a map and putting the cursor at the location of what needs repairing, and submit it, you can make it public, so others can see reported issues and when.  Take a picture with your phone, and you can attach that to your submission for clarity.
The city repairs the street lights, and EPCOR repairs park lights, however you still report both to 311 and they route accordingly.  The city's service commitment is 14 days on lights, however, they have had challenges with our light fixture type and are finding parts tough to find, they are looking at alternatives for these lights (the fixture portion at the top), they have done one at the corner of 1102 Wedgewood bled with LED, as they strive to put LED's in.
In the App, it's a bit misleading, as you can see when the city opens your request, and then it is closed when they pass it along to the contractor to change, that is not when the work is complete, which is not real helpful to knowing when they have been out to complete the work, so be patient.
As a board we have to have special permission from the city to do the extra boulevard cuttings that we do in summer months, as you can imagine, there are liabilities and other things that need documenting.  
The Board does not have a lot of authority over city owned assets and property, so it's up to all of us as a community to make them aware when there are repairs and attention needed, no different than common bylaw complaints, 311 should be your first call, or use the app, as you can use it 24 hours a day.